A patient who is lying down for a long time – how to organize his care?
Sometimes illness forces a loved one to spend most of the day in a reclining position. Then a lot of questions arise in our mind: is our body adapted to it? What are the consequences of spending many hours lying down? What equipment to choose, where to look for help and funds?
What are the consequences of prolonged lying down?
Among them is the formation of bedsores. Most susceptible to pressure sores are the sacral region – mainly the tailbone of the spine, shoulder blades, elbows, heels, and occiput. Bedsores can appear in just a few hours, and fighting already existing bedsores is not easy. The quickest way to do this is to relieve pressure on the area prone to wounds by underlaying the bedsores with discs. However, by far the most important thing is the anti-decubitus mattress. It is worth ensuring that the patient is supplied with such a product as early as possible – through continuous operation, it provides air supply to the area prone to bedsores, which ultimately prevents the formation or deepening of wounds. On the market we have several types of mattresses in the basic version and with a dehumidification system, such as the Airflo 250F or Airflo with a dehumidification system. On the plus side, anti-decubitus mattresses are partially reimbursed by the National Health Service – all you have to do is go to your family doctor at the general clinic for an order for supplies, or ask for such an order when you see a specialist. Keep in mind that according to current regulations, the visit does not have to be a National Health Fund medical appointment.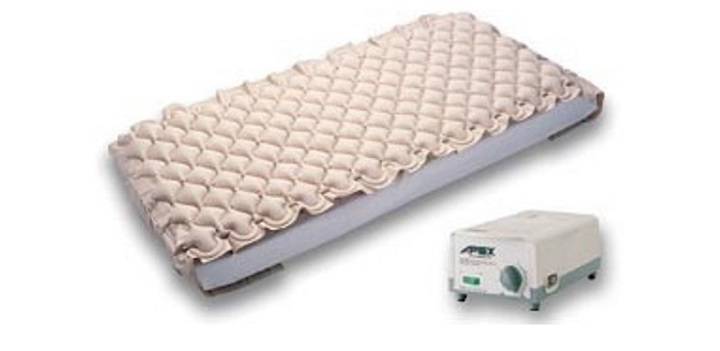 Can an anti-decubitus mattress be put on a regular bed?
Yes, provided that it does not endanger the patient. The anti-decubitus mattress has a height of 6.5 to 11 centimeters, and by having air pumped into it in an alternating mode, it gives the impression of rippling. Proper protection of the patient will ensure that we have a rehabilitation bed. Each of the available models is tailored to the needs of the person lying down, as well as the caregiver. Even the simplest model, such as the Luna Basic 2, a properly enclosed, remote-controlled bed with adjustable headrests, will make daily patient care extremely easy. Most of the available beds are controlled by remote control, so we can adjust, for example, the height of the bed or the position of the bed. This function also makes us take care of our health and spine. The bed has a metal or wooden frame, which, depending on the model, is adjustable in many positions. It also has locking wheels, drop-down barriers and an outrigger.
If the patient has a doctor's approval to get out of bed, the apartment should be properly secured, such as removing rugs so that the patient does not trip, and moving furniture against the wall so that it does not create an obstacle. You can also provide the patient with: a walker, crutches, a tripod, a quadriplegic or a cane to facilitate movement. All these mobility aids are partially reimbursed by the National Health Fund. Rehabilitation beds, on the other hand, are unfortunately not reimbursed by the National Health Service, but it is possible to rent them indefinitely.
What else can prolonged lying of the patient lead to?
In addition to bedsores, prolonged lying down can lead to: a decrease in muscle tone, weakening of the body, urinary and respiratory tract infections, which can eventually even lead to pneumonia. Through simple breathing exercises, such as inflating a balloon, blowing air through a tube, or using more professional equipment such as a breathing trainer, we force the patient's lungs to work. It is also important to remember to regularly ventilate the room in which the patient resides. The temperature in the room should be 18 – 20 ℃. However, the patient's comfort should not be overlooked.
In order for a patient who is lying down for a long period of time to be in good physical condition, it is essential to make sure that he or she exercises his or her muscles and joints properly. Lifting legs and arms, flexing joints, improving circulation, such as by squeezing a rubber or gel ball with the hand. It is important to remember to pat the sick person's back and rub with the appropriate agents.
Caring for a person who is lying down requires proper transfer of the patient in the bed itself, as well as from one place to another. When doing so, be sure to protect your spine. The aforementioned rehabilitation bed proves to be helpful, but also an easy chair and a lift.
What is an easy slide?
Frequent changes in body position help counteract the formation of bedsores. It is also important to keep your own health in mind when caring for a patient who is lying down for a long period of time. For this purpose, an easy slip was created.
Easy slip, is a product that makes it easier to turn a patient, move a patient in bed, from bed to wheelchair or chair. The product is made of highly durable fabric, resistant to tearing. Using it not only takes care of one's spine, but also the comfort of the patient, as this product is helpful for changing bed sheets or performing toiletries in bed. The maintenance of the easy slide itself is very simple. We can wipe the soiled areas with a damp cloth, and if there is a lot of dirt, we can wash the easy slip in the washing machine, at temperatures up to 95 ℃.
How will the elevator help us and is it reimbursed by the National Health Service?
A lift, such as Birdie, is designed to safely raise and lower a patient. The lift can easily be disassembled into two pieces and transported by car if necessary.
This product is unfortunately not reimbursed by the National Health Fund. However, you can apply for funding from other institutions, ie: Provincial Center for Family Assistance (PCPR), Municipal Social Assistance Center (MOPS) or the State Fund for Rehabilitation of Persons with Disabilities (PFRON). We encourage you to take advantage of this type of assistance.
We help with passion!