Mastectomy
Cancer affects all aspects of life. The most important is the one related to the psyche. How we emotionally cope with a crisis situation like amputation will directly affect the recovery of mobility after surgery. For centuries, breasts have been an attribute of the female body, and their possession is associated with a sense of femininity. Thus, after the removal of these attributes, every woman needs time to accept the new shapes of her body. Some patients also require professional psychological assistance.
Breast reconstruction
In theory, the choices in breast reconstruction options are unlimited. Practically – often these surgeries do not take place at all, for medical or financial reasons, sometimes also due to the mental state of the patient. Of course, there is an alternative. Wearing a prosthesis hides the fact of having undergone surgery, while providing an improved sense of well-being.
A few words about breast prosthesis
The prosthesis is an artificial breast, which is available both with and without a clearly defined nipple. For cosmetic and health reasons, it is recommended to wear a model whose shape, weight and other features correspond to the breast you have. If difficulties arise at first, do not give up. There are many types of prostheses on the Polish market, and for each lady you will manage to fit the right type. Although a prosthesis will not replace the breasts completely, the models available today allow a post-mastectomy woman to wear a swimsuit or a heavily lined dress without drawing attention to herself. Other models are recommended immediately after surgery, others for the pool, others for intense physical activity. The prosthesis is a product reimbursed 100% by the National Health Fund up to the amount of PLN 280.00 once every two years (ladies with severe disabilities are not subject to time limits, but the amount remains the same). There is also a range of supportive accessories, especially necessary when using adhesive dentures – moisturizing creams, tonics to clean the skin under the denture, and adhesive surface cleaners.
Underwear for amazon
No less important remains the choice of appropriate underwear. The bra should be well-fitted to the prosthesis and have comfortable, adjustable straps so as not to put too much strain on the shoulders and spine. It is best to choose one through which the skin breathes. Pockets in the bra stabilize the prosthesis so that it does not fall out and slip out of the cup. The cups must mimic the shape of the breast prosthesis and fit it perfectly. Of course, there are no contraindications for post-mastectomy ladies to use the pool or other water activities. However, it is recommended to wear one-piece swimsuits with wide straps, also equipped with pockets.
Wigs, scarves, turbans….
For those ladies who have also paid for their battle with cancer by losing their hair, wigs may be the answer. A wide selection of lengths and colors allows every woman to find the right hairstyle for her. Wigs are also eligible for 100% funding up to a maximum of PLN 250.00. On the other hand, a range of specialized scarves and turbans have been created for ladies who are not entirely convinced.
There are many organizations in Poland that help women fighting cancer. There you can learn about treatment and rehabilitation options. Some of them also offer financial support.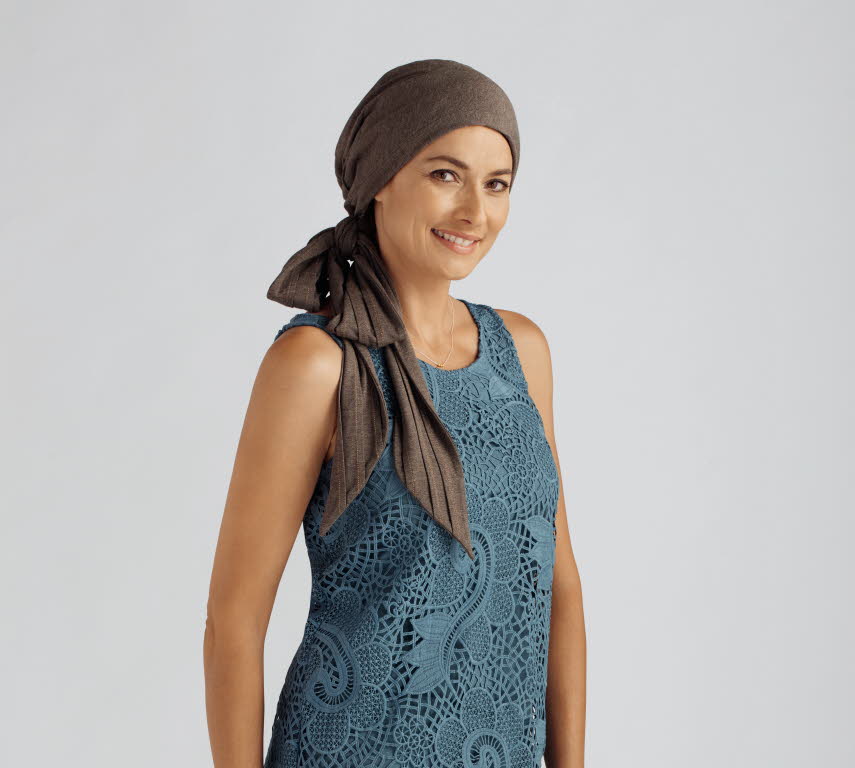 Turban Buttercap