Sports (not) for everyone?
It only takes a minimal level of awareness of each other's needs to realize that we all have similar expectations of life, we just realize them differently. People with disabilities, despite various limitations, are able to live life to the fullest! For some of them, physical activity becomes the meaning of each day. What can they do besides morning gymnastics to consider the day a success? Maybe sports will become their idea of life? Maybe it will just be a daily bike ride?
PFRON will subsidize
The prices of bicycles for people with disabilities are not symbolic. To customize these vehicles to meet specific needs, you have to pay a lot, and subsidies are limited to products on the reimbursement list. It is worth inquiring at the local branch of PFRON, MOPS, or PCPR about the possibility of reimbursement. For example, a handbike is classified as rehabilitation and sports equipment, as well as for the elimination of barriers, and subsidies from state institutions can be obtained on this basis. The bicycle stop, on the other hand, can become ours if we apply under the Active Local Government 2019 program.
A three-wheeled rehabilitation bicycle?
Rehabilitation tricycles are becoming increasingly popular among the elderly, people with imbalances, spinal injuries and many other musculoskeletal conditions who want to maintain maximum fitness for as long as possible. Such bicycles have a front wheel with handlebars and two rear wheels arranged in a biped. The user can stop and rest at any time without getting off the bike. There is no need to balance the body when getting on, off, or while pedaling. Riding such a bicycle is possible thanks to the power of your own muscles, you need to pedal to go.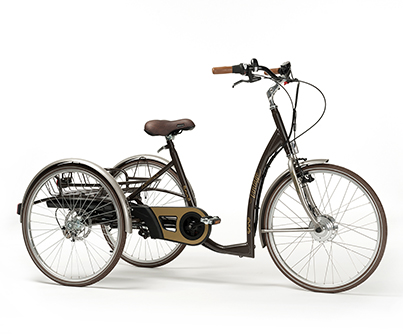 Single-speed and multi-speed designs are available. For users who may not have enough power for longer distances, electric tricycles have been created, where assistance is made possible by a removable battery.
Learning to ride a tricycle requires attention, as the center of gravity is distributed differently than in a standard bicycle. In addition, in this type of bicycle, there is no need to bend in corners, to change direction you just need to turn the handlebars. The considerable weight and size of the tricycle can be problematic. Weighing at least 20 kilograms, the bike effectively makes it difficult to carry and the sizable size to store.
Handbike?
A handbike is a hand-powered bicycle, usually a tricycle. It is a vehicle that can be ridden by people with almost any type of disability. It was designed to allow people with cerebral palsy, balance disorders, cerebral dystrophy, impaired musculoskeletal system, damaged spine to ride freely. The handbike can be ridden kneeling, sitting or lying down. The reclining position allows faster driving (more than 40 km/h). In the kneeling position, it is easier to drive uphill, as it is possible to operate the entire torso. The seated position is used primarily in bicycles used in rehabilitation and recreation, where aerodynamics is less important and more about comfort and safety.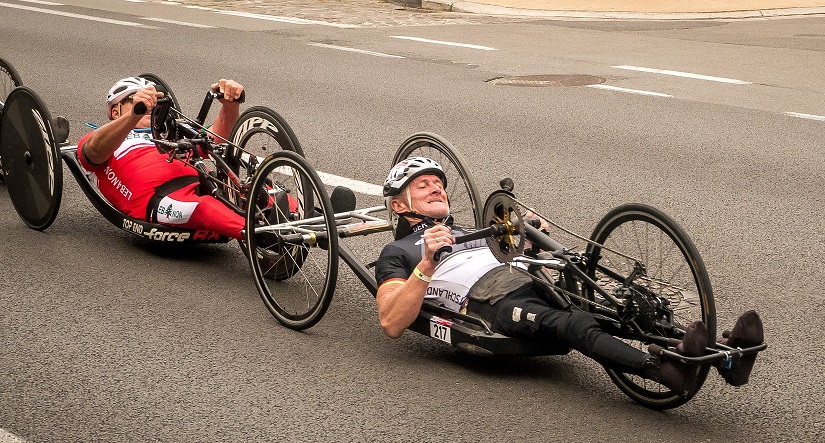 Most often, there is one powered wheel at the front and two at the rear to ensure a stable position for the user. There are also handcycles with two wheels at the front and a single drive at the rear. Adjustable seat length, adjustable backrest angle and properly designed footrests allow you to tailor the bike exactly to your needs and comfort. For safety on the road, it is best to purchase a handbike with a chain guard, a solid brake, and a mandatory safety flag to be as visible as possible to other road users. It is important to have the right seat cover, comfort will be provided by special breathable mesh upholstery or properly fitted soft stabilizing elements.
Modern bicycle attachment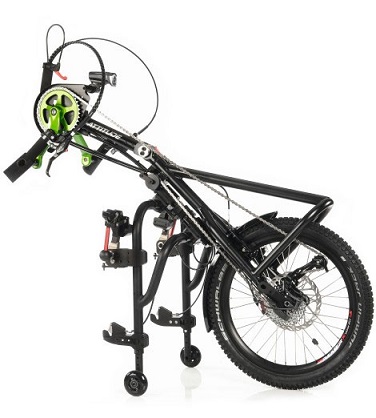 No one doubts anymore that much more is needed for the comfort of a person with a disability than the ability to use a wheelchair. More and more owners of active wheelchairs have the option of reaching for bicycle attachments that are easy to install and use. You can choose whether you are interested in a manual attachment, where the strength of your own muscles will determine how fast and how far you will go. We can choose an electric option – we can effortlessly reach speeds of over 20km/h with it, or a hybrid version – a combination of manual and electric.
Elimination of barriers
The importance of sports in the rehabilitation process was recognized a very long time ago, and the field has developed strongly since then. In most cases, the disciplines are based on existing sports, with necessary modifications to accommodate the abilities and needs of athletes with disabilities. Importantly, adapted sports significantly eliminates social exclusion. Those wishing to try cycling have this opportunity, regardless of the limitations imposed by their own bodies. Of course, before making a purchase, it is best to consult a doctor or physiotherapist to ensure that the choice we make will be optimal for our body's needs.