Luxury on the move
From shopping at the mall to trips out of town, Sterling's new luxury S-Series scooters are ready for any trip. With a range of useful features, extraordinary driving dynamics and stylish design, there's a wheelchair for everyone
The luxurious S425 offers all the features of its little brother while providing extra power!
When we combine bright LED lighting at the front and rear and comfortable, versatile suspension with a maximum travel speed of 12 km/h, we get the S425 model, which can be driven on both roads and pavements.
Higher wheels help you deal with obstacles you might encounter outside, and longer trips are no longer a problem – the power you need is provided by a 55Ah battery.
Innovative, active anti-tipping wheels
Freedom to cross obstacles and safety on slopes.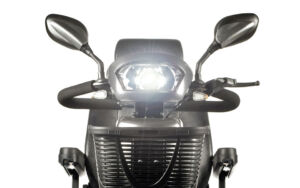 Modern LED lighting
Powerful, versatile LED lighting approved for use on the road. It is enough for the entire life of the scooter, making the replacement of light bulbs a thing of the past.
Advanced LED technology makes the S-Series 400 times more energy efficient than scooters using standard bulbs, which means less battery power consumption and the ability to ride longer. All models are equipped with clearly visible turn signals, position lights and LED stop lights.
Comfort on the go
The state-of-the-art S-Series seat provides maximum comfort – from height, depth and angle adjustments, to raised armrests with adjustable width, angle and depth. Each of these elements has been developed with the user's convenience in mind.
Designed with the user in mind
Thanks to the infinitely adjustable steering column, it only takes a moment to find the perfect driving position for you. The intelligent design makes the headlamp automatically adjust to the column position.