The Motion Charge&Go behind-the-ear hearing aid is equipped with an inductive charger. The cameras start charging automatically when placed in the charger and turn on automatically when removed from the charger. They can be charged while sleeping and used throughout the day. The daily operating time on a single charge is up to 19 hours without transmission.
The lithium-ion cells with which these cameras are equipped are the best rechargeable batteries on the market.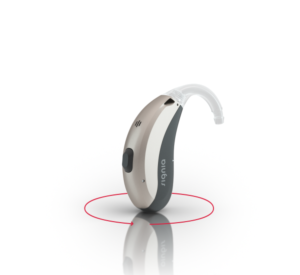 In addition to inductive charging, the Motion Charge&Go model also has an ergonomic shape, a sturdy housing and discreet use. In addition, it is resistant to dirt, dust, moisture and sweat. It is suitable for a wide range of users – from mild to severe hearing loss.
Using the myControl app, you can directly transmit audio from various sources to your hearing aids and operate them remotely. Based on motion data from this app, the hearing aid settings are automatically adjusted as needed, with no loss of hearing performance, even when moving. The OVP (Own Voice Processing) function ensures the natural sound of your own voice, which no longer appears loud and distorted. Thanks to state-of-the-art noise cancellation technology, the camera ensures clear speech understanding even in noisy environments.
The camera connects via Bluetooth, allowing direct connectivity to a smartphone. Directional microphones enhance speech understanding in noise.
The case is interchangeable, and the camera is available in 11 colors.
We encourage you to read our article on hearing