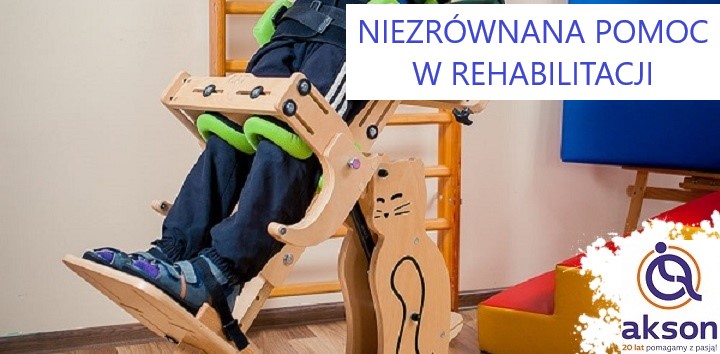 Rehabilitacja, jako kompleksowe działanie na rzecz osób niepełnosprawnych, ma na celu przywrócenie lub pomoc w osiągnięciu optymalnej sprawności pacjenta. Czy to w przypadku dzieci, czy dorosłych, najważniejsze jest dojście do jak najlepszego stanu zdrowia fizycznego i psychicznego oraz jego utrzymanie. Proces ten przebiega efektywniej, gdy jest wspomagany sprzętami wskazanymi przez specjalistów. W wielu przypadkach trudno wyobrazić sobie skuteczną rehabilitację bez zastosowania pionizatorów.
Rehabilitation through verticalization
Rehabilitacja dzieci, zwłaszcza w zakresie pionizacji postawy, to naprawdę trudne zadanie. Ważny jest komfort użytkowania, aby nie zniechęcić malucha do ćwiczeń, ale równie ważnym aspektem jest dopasowanie sprzętu do tempa wzrostu dziecka (zakup z refundacją NFZ przysługuje raz na 5 lat). Wykorzystuje się tu głównie pionizatory – rodzaj ortez stworzonych z myślą o umożliwieniu przyjmowania i utrzymania stabilnej pozycji stojącej. Pacjenta umieszcza się w konstrukcji pionizatora, gdzie jest stabilizowany w odpowiedni sposób, za pomocą pasów i obejm. W zależności od stopnia niepełnosprawności oraz konieczności podtrzymywania określonych części ciała, stabilizacja taka może obejmować stawy skokowe, kolanowe, staw biodrowy oraz obszar klatki piersiowej.
The essence of uprighting
The research also underscores the importance of patients adopting upright posture as injury prevention, a benefit for the spine and the body as a whole. Such a position, achieved precisely thanks to uprights, facilitates communication, thus playing an important role for emotional and social reasons. For children, this equipment is essential whenever they cannot assume an upright position due to an existing illness, injury or disability. Verticalization has a positive effect on a number of factors. Rehabilitation equipment that keeps a child in a correct, upright posture makes it easier to care for and nurture a young patient. The upright also helps children who are in a sitting or lying position for long periods of time due to their disabilities, and their body cells do not get enough oxygen through inactivity. By improving blood circulation, they help eliminate headaches and anemia resulting from hypoxia. Rehabilitation of children with the use of verticalization also has a very good effect on the muscles of the whole body and on the joints. The weight of the body in the upright position stimulates the feet that hold the baby and improves blood circulation. The upright is indispensable for wheelchair users also because the standing position prevents joint pain and degeneration. The vertical body position also supports the natural peristaltic movements of the intestines, affecting the digestion process. Physical activity stimulates worm movements in the intestines and speeds up food digestion. Verticalization also directly improves the patient's mental condition. When a child has a lot of energy, but a medical condition does not allow him to use it properly, an upright may be the best and safest solution to support his activity.
Types of verticalizers
We can divide the uprights into dynamic and static. If the patient can eat or move independently or with a little help, a dynamic verticalizer should be chosen. On the other hand, if the patient can only stand, then a static model is a better option.
Static upright
A static upright with a rigid design helps maintain correct torso posture in children whose bodies have become completely flaccid as a result of illness. It does not enable the patient to walk, but instead keeps him safely and securely in an upright position. In some cases, it also has special wheels and handles that make it easy to move the device with the patient within the apartment. Very often, tables are also mounted to uprights to make it easier for caregivers to feed the child and for the patient himself to play. The static upright is especially recommended for children who suffer from quadriplegia, meningo-spinal hernia or cerebral palsy.
Dynamic riser
A dynamic up right is an extremely useful piece of rehabilitation equipment that allows a patient to move independently or with a little help from a caregiver when free walking is not possible. It helps start and train the walking process by training muscles to become stronger and more flexible. They are also used as a permanent mobility aid. Good dynamic verticalizers are characterized by a modular design, which allows the device to be configured in any way, optimally for the individual needs of the patient and his changing condition. A dynamic upright, like a static upright, can be equipped with armrests or a table positioned in front of the patient. Dynamic models usually have wheels so that the toddler can move freely. They are especially recommended for children who have suffered cervical, lumbar or thoracic spine injuries, have partial paresis of limbs, suffer from ankylosing spondylitis, polyarthritis or cerebral palsy.
The choice of upright depends mainly on the patient's condition. There are uprights of various sizes and parameters available on the market, but we suggest consulting a specialist in this field before making a decision, and making the purchase itself at a reputable orthopedic store.