Stairs as a barrier
According to current regulations, architectural barriers are any impediments present in a building and its immediate surroundings that, due to technical solutions, construction or conditions of use, prevent or impede the freedom of movement of people with disabilities. The main obstacle facing wheelchair users or the elderly with limited mobility are stairs and all types of thresholds and curbs. Of course, the ability to move freely within the scope of one's own home or apartment is one of the most essential elements of everyday comfort. Another element, providing relative freedom, can be considered the ability to leave one's residence without having to engage a group of people to help. Thanks to available technologies, today you can enjoy devices that effectively remove various architectural barriers. One such device is stairlift .
Stairlifts
For people who are in a wheelchair or whose dexterity is so limited that they are unable to climb stairs on their own, stairlift-type devices are an ideal solution. They are used to overcome architectural barriers in the form of all types of floors. They make it possible to transport people who need to be transported up the stairs in a relatively simple and convenient way. The stairlifts are not attached in any way to the place of use, so they can be easily folded and transported to any place. They are often sold complete with a wheelchair or car seat, but this depends on the specific model.
The needs and preferences of the disabled person and the possibilities of using this type of equipment should be carefully analyzed before purchasing. There are a growing number of devices available on the market to eliminate architectural barriers, and any one of them may prove to be a better choice for the interested party than a stairlift. However, if, after considering all the pros and cons, you decide to go for a mobile stair conveyor, first of all, choose whether it will be the type of walking or crawler .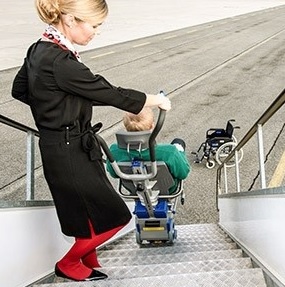 The small size and low weight make this equipment for climbing stairs extremely functional and maneuverable. It is ideal for people who live, for example, in a block of flats without an elevator, where there is no room in the small stairwell to maneuver the device itself. When purchasing a walking stairlift, it is important to remember that its maximum load capacity is usually 120 kg, and a second, fairly physically fit person is needed to operate the device.
Another advantage of the model in the walking version is that such a stairlift is very easy to disassemble and transport in the trunk of a car to the destination where it will also be needed. In addition, due to the specific mechanism of operation, walking stairlifts easily work on stairs with rounded edges, as well as winding stairs. Thanks to the motor, they step with the seat and the patient sitting on it, easily traversing the floors.
This type of stairlift is heavier and bulkier, but it is easy to drive on stairs without having to balance it and catch the right balance in driving it. The crawler staircase is suitable for people who live very high up (it has a range of up to 50 floors).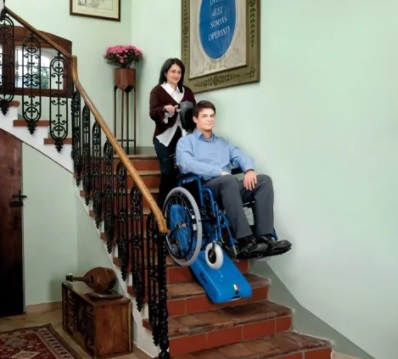 Unfortunately, a crawler staircase is larger than a walking model, so it takes up considerably more space – so it may be intended for industrial use, such as in public buildings, where staircases are really wide and allow the staircase to maneuver freely. The price of such a device is the same as that of a walking model, unless you choose a more complicated form of crawler staircase – with special additional skids and an elevator. This solution allows different types of wheelchairs to be clipped into the stairlift. In the basic version, you can usually only clip in a hand truck, the basic one.
Chairs on rails
When it turns out that stairlifts don't hit a person's preferences, you need to consider other solutions. An alternative is to install a mini passenger lift, in the form of a chair that glides up and down the stairs on special rails, against a wall or handrail. This solution makes life easier for people who live in single-family homes and do not require assistance in getting into the right position on the crane seat, but it is problematic for them to climb to the floor with their own strength.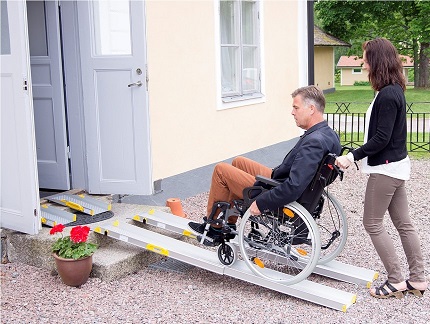 Another type of architectural convenience that can be provided for sick residents is a handicap ramp. If there are a small number of stairs to be leveled, there is no need to build a masonry driveway, just stock up on appropriate driveway ramps (and you can choose from telescopic, ribbed or aluminum ramp models – they are ideal for mounting on the outside of the house, as well as rubber and "Doorstep" type ramps, which will work well in mitigating the height of thresholds).
These are the simplest and cheapest solutions for removing architectural barriers. They are also a fantastic aid in many different situations, such as getting a stroller into a car. The selection of the right ramp is helped by professional medical stores, whose staff advises on the equipment suitable for the weight of the wheelchair, the type of thresholds or stairs, etc.
Elevators for people with disabilities
One very convenient solution can be an elevator for the disabled. It takes the form of a platform moving on a vertical axis (up and down), which a disabled person can easily access with a wheelchair (its surface is suitable for almost all types of wheelchairs). The advantage is that the sick person does not need assistance to use the device. Such a platform for the disabled can be installed both inside and outside the house, but it takes up a lot of space, so the staircase on which the structure is built should be really wide (this is why these types of elevators for the disabled are usually installed in public buildings). Unfortunately, this is a rather expensive solution, additionally requiring various technical permits.
Thus, any device designed to help people with limited mobility has its own advantages and disadvantages – it is important to select the equipment so that it meets the needs of the disabled person, while working seamlessly in his specific environment. It is possible today to choose from a relatively wide range of devices and accessories available on the market – so as to adapt the home or apartment to the individual dysfunctions and needs of the client or senior citizen.
In order to enable people with disabilities to eliminate architectural barriers, the District Family Assistance Center (PCPR) should secure funds from the National Rehabilitation Fund (PFRON) for this purpose. People with disabilities can apply for a grant to help remove the indicated barriers. The extent of the assistance provided may vary from unit to unit. Therefore, before applying, it is a good idea to obtain information on the conditions for obtaining funding from your local MOPS, PCPR, local medical store or regional representative of the medical company. The subsidy covers the cost of purchasing equipment, building materials, and construction or civil works or other barrier elimination services included in the contract. The material and financial scope of the work to eliminate architectural barriers is determined by a revised cost estimate. Funding for the elimination of architectural barriers is up to 95 percent. value of the implemented task, but no more than up to fifteen times the average salary. This is the maximum amount.