Qmed Yoga Mat
Dimensions: 183x61x0.6cm

Non-slip surface
Very lightweight and convenient to carry
Better focus
Qmed Yoga Mat is an essential accessory that guarantees cushioning and stabilization of the body during fitness, Pilates or yoga sessions. A well-chosen mat influences safety o comfort when performing even more advanced positions. The Qmed mat will be ideal for both, beginners and more advanced yogis, for example, to practice the Iyengar method. The yoga mat's monochromatic design protects the mind from distraction, allowing you to focus on the sensations in your body and breath. Practice becomes a real pleasure and deep relaxation!
We created the mat from TPE, a very lightweight material that can be recycled. The weight of our mat is therefore appreciated by users who carry it frequently or with spinal conditions. The included handle makes it easy to conveniently store the mat and transport it when needed. With a width of 61 cm, it is easy to select a standard mat cover. You no longer have to give up your yoga practice while traveling.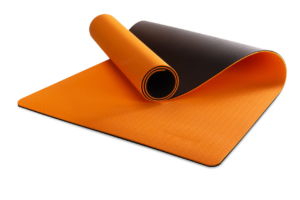 The thickness of 0.6 cm is optimal in terms of insulation from cold or hard ground, which is important for long relaxation. It also gives a soft and sinking feeling to the mat, and increases comfort for slim people with sensitive, more exposed joints. A properly designed surface affects the non-slip properties of the mat, even if you sweat during training.