Portable ramps have a wide range of applications. They are mainly used for wheelchairs (manual and electric), but they are also perfect for safely transporting balconies and baby carriages. In general, you can use them with any type of equipment, just be mindful of the maximum allowable load on the rails.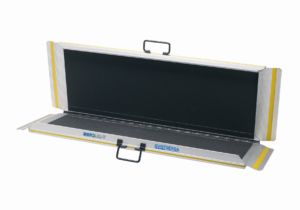 The variety of sizes of the ramps makes them ideal for public places, they will find use at entrances to stores, restaurants and hotels. Of course, they can also be used in private buildings, as they are easy and convenient to install, use and transport.
The ramps are equipped with a convenient carrying handle.
| | | | |
| --- | --- | --- | --- |
| Art. No. | Inner width. | Length | Max. load |
| AE90 | 76 cm | 90 cm | 350 kg |
| AE120 | 76 cm | 120 cm | 350 kg |
| AE150 | 76 cm | 150 cm | 350 kg |
| AE180 | 76 cm | 180 cm | 350 kg |
| AE210 | 76 cm | 210 cm | 350 kg |