Orthopedic seat to stabilize the back and head dedicated to children with MPD. The seat offers optimal posture + stability for daily use with your child. The femoral pelvises effectively stabilize the pelvis. The contoured seat cushion offers comfort while sitting and further stabilizes the pelvis. For trunk stabilization, there are trunk pellets, as well as a wide range of belts and neoprene vests (optional). The adjustable headrest guarantees very good stabilization of the head.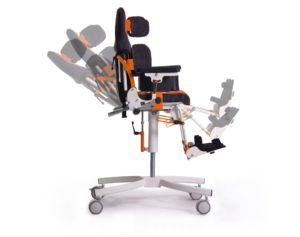 The use of ALCALA material in the upholstery increases user comfort. It is soft and pleasant to the touch, breathable, resistant to fuzzing, washable, waterproof, imitates natural leather, eco-friendly.
Seat advantages:
excellent maneuverability,
Infinitely adjustable seat height,
adjustable backrest angle,
Adjustable seat angle,
Adjustable footrest angle,
TILT-in SPACE,
full positioning,
adjustable backrest height,
adjustable seat depth,
wedge,
Belts,
foot sandals,
compact size,
Easy to keep clean (covers pulled off the cushions),
a large number of additional options.
With the chair, it is possible to work with the child through play and learning. Contact with the environment in the seat becomes easier and less tiring. Bayo is ideal for small apartments, but also works well in kindergartens and inclusive schools and occupational therapy workshops.