With reinforced front frame, for users with a maximum weight of up to 140 kg and a weight of less than 9.5 kg. Xenon² Hybrid is easy to fold, carry and transport.
In addition, it has been designed in such a way as to present a minimalist style, characteristic of strollers with a rigid frame. Thanks to its high-end design and innovative technologies, driving and handling the Xenon stroller does not require much force and allows the user to save energy.
By combining innovative ShapeLoc technology with high-quality aluminium used in frame production, the Xenon² Hybrid is more durable and weighs just 9.5kg. The reinforced fixed front frame allows the maximum user weight to be increased to 140 kg.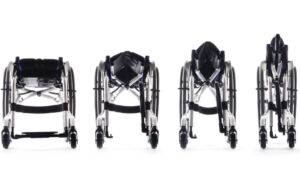 At the heart of the Xenon2 design is a unique cross, placed under the seat so that it is almost invisible, making the frame feel minimalist and open, like in rigid wheelchairs.
The completely redesigned axle stem in combination with the new cross ensures the durability and ride stability typical of a rigid frame with the handiness of a folding frame.
Stand out from the crowd by giving your Xenon2 a personal touch with a palette of 32 available frame colours. There are also anodized forks and wheels in 5 bold colours. In addition, you can emphasize the selected color scheme by matching the upholstery trim of the EXO backrest in a similar or contrasting color.
Do you like the simple, aerodynamic design of the Xenon2 FF version? Or do you prefer the rugged, stiffer Xenon2 Hybrid? Or the very practical and convenient to transport Xenon2 SA? Whichever of the richly equipped versions you choose, the sophisticated elegance of the Xenon2 will put you in the spotlight.