A new generation of electric wheelchair.
Hybrid drive base
For the first time, QUICKIE offers a unique combination of rear-wheel drive and center-wheel drive technologies, providing impressive outdoor performance combined with indoor maneuverability and exceptional comfort
The Q500 H SEDEO PRO electric wheelchair is available with 4-pole motors, offering a top speed of 6, 8, 10 or 12.5 km/h and more power to overcome obstacles.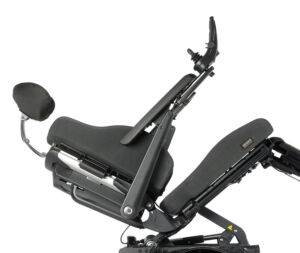 The fixed front arms of the Q500 H's casters prevent the truck from tilting forward, while a dynamic suspension system keeps both the drive wheels and casters in contact with the ground. Smart active anti-tip wheels ensure that all 6 wheels remain in contact with the ground for better traction and stability.
The hybrid drive base combines greater indoor maneuverability similar to a center-wheel-drive base with the outdoor performance of a rear-wheel-drive base. Enjoy the outstanding comfort offered by our Q500 M, but also the increased stability you'll experience in the Q500 R. All of these benefits go hand in hand with the superior seating offered by our SEDEO PRO system.