Duo Ball mini rehabilitation roller (for massage)
Provides an effective massage for the back, arms and legs
Reduces muscle pain and tension
Reduces feelings of fatigue
Easy to use and extremely handy
For use before and after training
This is a specially designed massage roller in the shape of two balls connected together. The unique form of the product, guarantees a deep massage of the spinal muscles, while providing relief to the various structures. It breaks up tension in muscle plexuses, trigger points and fascia. It is a simple and very helpful tool in mobilizing the spine and increasing its flexibility.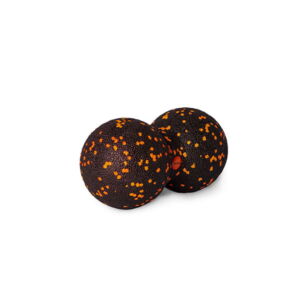 Recommended for people with back pain (neck, thoracic region), leading a sedentary work and life style, as well as for people engaged in various sports. It can be used in physiotherapy by people with discopathy and increased tension in the spinal muscles. The product is easy to clean and made of foam with increased hardness. Its handy form makes it ideal for use at home, at work or in rehabilitation classes.
INSTRUCTIONS FOR USE
Indications:
Mild pain conditions of the neck and thoracic spine region.
Recommendations for use in physiotherapy for people with discopathy and increased tension in the spinal muscles.
Recommendations for use in massage of the back, upper and lower extremities
Contraindications:
occurrence of pain during exercise
conditions immediately following dislocations or bone fractures
unfinished bone fusion
inflammation of joints and periarticular tissues
swellings
Fresh surgical scars or other wounds
NOTE! Stop any exercise that is too demanding or causes discomfort such as dizziness, decreased blood circulation or other physiological abnormalities and consult a doctor.